---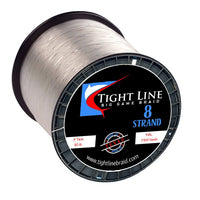 Born and manufactured in Texas. This is not your average fishing line!
As avid anglers ourselves; we set out to create a fishing line that surpasses and out performs when others fall short.
Tight Line Braid is backed by years of R&D with a scientific approach. We know the makings of top quality fishing line. We've poured our hearts into delivering just that.
Once the hook is set and the fight is on; You want TightLine Braid in the fight with you!
TLB Advantages:
• No line memory issues-keeps reel spools less knotted and smoother casting
• Increased Reliability-performs when others snap
• Increased Durability-holds up to all environmental conditions
• Smaller diameters-which gets more line on the reel and reduces chances of getting spooled
• No color bleeding-TLB ColorN process locks color in and will not bleed off causing messy boat decks or stained gear.
• Extremely strong and abrasion resist-less fish and tackle losses
• Affordable pricing – achievement to you through our expertly tuned manufacturing practices and proficiencies, reducing waste and environmentally responsible. You win and
Mother Earth loves you for it!
Whether you are pitchin', flippin', or Big Game fishin'. -Tight Line Braid